Board of Directors
& Staff
Your fellow community members are working hard to make Parksville-Qualicum Beach a wonderful place to live.
Sarah has been a member of the Parksville Qualicum Community Foundation Board since May 2016. She became chair of the Board in May 2019. Currently she is the Branch Manager for the Qualicum Beach branch of Coastal Community Credit Union, where she has been an employee since 2005. Sarah feels passionate about the community and is committed to making it a better place to live, work and raise families through volunteerism within the region.
Sarah was raised in Qualicum Beach and graduated from Kwalikum Secondary. Today she is proud to call Qualicum Beach home with her family.
It is important to recognize philanthropy in a variety of ways; however, philanthropy doesn't always have to be limited to a financial contribution—it can be identified by the means of volunteerism. The Parksville Qualicum Foundation does great things for our community, offering grants and support to organizations and projects that make Oceanside an amazing place to live.
Wendy's career in health and social services lends itself to many aspects of community engagement on behalf of the Parkville Qualicum Community Foundation. She served as president for 3 years and continues to support the work of the Board as past president.
Wendy is a passionate relationship builder with the ability to connect with and communicate a vision to multiple audiences.
Len was born, educated and married in Winnipeg, then he lived in Edmonton and Sherwood Park Alberta, Kamloops, and Deep Cove North Vancouver. He has worked in Real Estate, Engineering, and Management, and eventually retired from his role as Senior Executive at CN Rail. He then moved to Qualicum Beach in 1990 to enjoy his retirement.
Len has 2 children and 6 grandchildren who have grown up and spent most of their lives on Vancouver Island. He has volunteered throughout his life in sports and social services as a participant, director, and in many executive positions making and changing policies as communities needs changed. These groups included Chamber of Commerce; Recreation Commissions, Rotary; various schools; Credit Unions; as well as almost five years with the Parksville Qualicum Community Foundation.
Philanthropy is giving back to the community and helping those who are not able. Giving back has always been part of Len's personal service plan. Based on recent studies that show a decline in volunteering, he is encouraged by the Foundation's principles to support projects that arise from Vital Signs research that keep up with social changes. Also, with memberships in service clubs declining and church attendance declining, there is a need for community services that are up to date and in touch with current needs.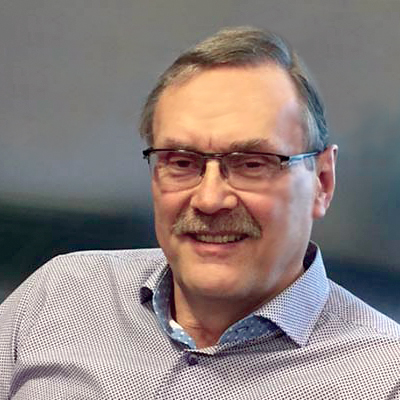 Brent is a founding member of the Foundation, and currently serves as the Treasurer and a Director.
Brent was born in Brandon Manitoba, and at the age of 19, his family moved to the Okanagan and settled in Peachland where he attended Okanagan College. His accounting career started in Penticton with Rutherford Bazett, a CA (Chartered Accountant) firm.
In September 1978 Brent achieved his CGA designation and in the fall of 1979 moved to Qualicum Beach to join Barclay Tarr Walters CGA firm.
In 1985 Brent formed his own firm and continues to work as Brent Johnson CPA Ltd.
In 1998 Brent achieved his Certified Financial Planner (CFP) designation and is proud to give client's independent financial planning advice and direction in realizing their goals and dreams. Also, in 1998 Brent was extremely proud to be named "Business of the Year" by the Qualicum Beach Chamber of Commerce.
WINNER OF THE LIFETIME ACHIEVEMENT AWARD!
On February 21, 2018, Brent received the Lifetime Achievement Award from the Qualicum Beach Chamber of Commerce.
Brent's hobbies include travel, working in his yard, spending time with his grandchildren, and his two Yorkshire Terriers.
Philathropy starts by being community-minded. Brent's only goal is to make the community strong and thrive, such as by helping service groups or non-profits with Financial Statements. Closest to his heart is the Parksville Qualicum Community Foundation— the legacy of the community.
Kari-Lee joined the Board officially in May 2019, prior to that she has been assisting the treasure since 2008.
Kari-Lee is an accountant with Brent Johnson CPA Ltd. She has been involved in all areas, from year end preparation, personal income tax returns and every aspect of bookkeeping.
Kari-Lee possesses a Bachelor of Business Administration (BBA) majoring in Accounting, from Vancouver Island University.
She has been in the area since childhood and now raises her own family in the area.
Terra joined the Board in early 2019 when her family moved from Vancouver to Nanoose Bay.
Terra currently works at the United Way of Central and Northern Vancouver Island, and offers consulting and coaching in grant writing and evaluation. She has a background in Food Sytems, Social Planning and Policy, and recently worked at the Vancouver Foundation as a Grant Manager.
Terra is happy to contribute to the Board in its efforts to build community and feels it has been a fantastic way to get to know her new home.
Philanthropy is a critical part of a democratic society. It is a way to give back to community and create social change. Community Foundations across Canada help Canadians invest in building strong and resilient communities for the future, as well as having immediate impact where it is needed most.
Resource Development Officer
Mary began working with the Foundation in 2017, but her association with this very special organization began in its early beginnings, by assisting with fundraising. What growth, by way of bequests and donations, has been experienced since those days!
After working for Coastal Community Credit Union for 15 years, Mary then spent 6 years representing Qualicum Beach residents as a member of council. An attitude of gratitude for living in such a wonderful part of the Island motivates her every day.
There still is so much more that can be done as a Foundation and as a Community. Mary is very proud to be asked to help "spread the word" about PQCF from Deep Bay to Nanoose Bay, as well as Errington and Coombs.
Philanthropy means generosity in all its forms and is often defined as giving gifts of "time, talent and treasure" to help make life better for other people. PQCF offers the opportunity to all ages and means, to contribute in a meaningful manner of ways of their choosing.
Join Us
If you're interested in joining our volunteer board of directors, please reach out.